Dissemination Program of the Tenure Track System
Dissemination Program of the Tenure Track System
NITech established Center for Innovative Young Researchers in 2009 based on the program by Ministry of Education, Culture, Sports, Science and Technology " Improvement of research environment for young researchers" and has been implemented tenure track system.
We were adopted as "Program to Disseminate Tenure Tracking System" in July 2013 and the program has been newly launched.
This program is one of the programs for the Development of Human Resources in Science and Technology by MEXT and is made to strengthen the environment concentrating on their own research comfortably in independent research environment.
We will also make more effort to let them in better condition.
The detail of the program is written in the link below in Japanese.
NIT Tenure-Track System
This program is administered by Visiting Professor's Performance Evaluation Committee of Center
for Fostering Young and Innovative REsearchers, and also directed by advisory board and external
review committee.
The performance evaluation of visiting professors is operated by Visiting Professor's Performance
Evaluation Committee, and the employment as tenure professors is determines through interim
and final evaluation.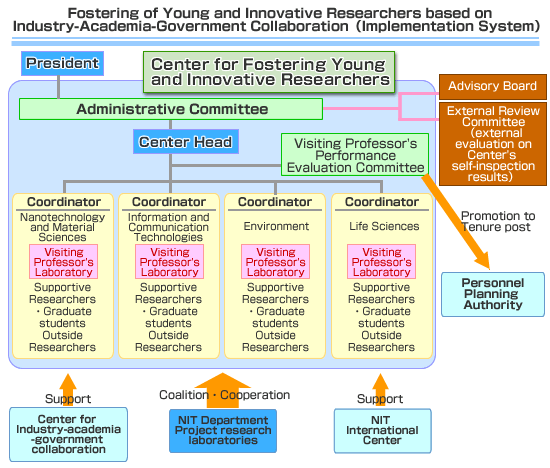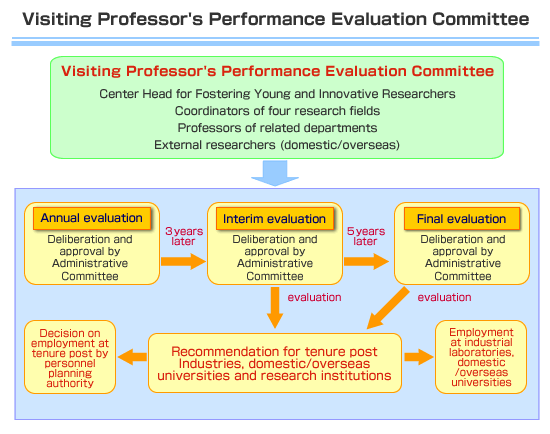 Committee Members
Title
Name
Official Occupation
Center Head
YUCHI Akio
Executive Vice-President
Deputy Center Head
IWASAKI Makoto
Professor
Committee
OBATA Makoto
Vice-President Professor
NISHINO Youichi
Professor
ERYU Osamu
Vice-President Professor
NISHINO Youichi
Professor
KAWASAKI Shinji
Professor
SATOU Jun
Professor
SANO Akihito
Professor
KIKUMA Nobuyoshi
Professor
MORI Hideki
Professor
MIZUTANI Akio
Professor
ITODA Hideki
Professor
TANEMURA Masaki
Professor
TOMINAGA Akihiro
Professor
HIGUCHI Masahiro
Professor
YOSHIDA Masao
Research Promotion Team Leader
TOIDA Hirokazu
Peresonnel Section Team Leader
HIROOKA Nobuyuki
Financial Affairs Team Leader
Visiting Professor's Performance Evalution Committee
| Name | Official |
| --- | --- |
| KANZAKI Shuzo | Executive Director of Chubu Science and Technology Center |
| IMAIZUMI Yuji | Executive Vice-President, Nagoya City University |
| FURUHASHI Takeshi | Professor, Nagoya University |
| YUCHI Akio | Executive Vice-President, Nagoya Institute Technology |
| IWASAKI Makoto | Vice-President Professor, Nagoya Institute of Technology |
| NISHINO Youichi | Professor, Nagoya Institute of Technology |
| KAWASAKI Shinji | Professor, Nagoya Institute of Technology |
| SATOU Jun | Professor, Nagoya Institute of Technology |
| ITODA Hideki | Professor, Nagoya Institute of Technology |